Constant Voltage Power Supply  (CVPS, PN: 8.07)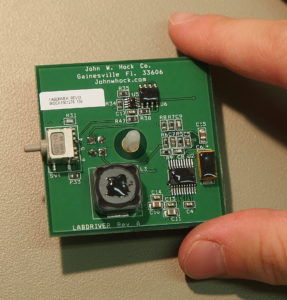 We recently developed a constant voltage power supply for our 6 VDC traps that can use any battery source from 3.8 to 24.0 VDC.  We developed this in response to several malaria control  projects in Africa where 12-volt automobile batteries and chargers were widely available and the cost of shipping in 6-volt gel cell batteries and chargers was considered prohibitively expensive.  The Constant Voltage Power Supply (CVPS) circuit, PN: 8.07 (patent pending), was mounted with the photoswitch in our New Standard Miniature CDC Trap, PN: 1012.  The 1012 trap when operated with the CVPS at 12 volts only consumes 0.16 amps per hour;  a standard 90 amp hour deep discharge battery would run the trap for more than 550 hours or 45-50 twelve-hour trap runs!
A second important use is to run the same trap with the CVPS but with disposable alkaline D-cells (Pelican 4 D-cell External Battery Holder, PN: 1.50).  Using our Energizer Industrial D-cells (PN: 2.10.D) the 1012/CVPS unit's runtime would be >30 hours or at least two twelve-hour trap runs per set of batteries.
The Constant Voltage Power Supply has a small 3-way switch that can be set to off or 6 or 12 volts.  This shuts down the CVPS at a voltage that will not allow the battery to be drawn into deep discharge.
Other traps that can be used with the Constant Voltage Power Supply (PN 8.07) include:
One additional use is to include the (PN: 8.07) in the Collection Bottle Rotator (PN: 1512) which runs on 12-volt battery; the CVPS steps down the voltage at the switched 5-way binding posts to enable the use of any of our 6-volt traps without modification.