Improved Prokopack Aspirator
The Improved Prokopack Aspirator Model 1419 was developed for indoor sampling of resting mosquitoes such as Aedes aegypti, anophelines, and Culex. Aspiration of resting adults produce collections of both sexes and all physiological stages directly from their resting sites, allowing better estimations of species diversity, abundance, sex ratio, age structure, and physiological status (Silver 2008). At 23 ounces (650 g) it is light weight and highly maneuverable; with the included extension pole the unit can sample from ground level up to 13 feet (4 m). This enables collections to be made on upper walls, ceilings, and under furniture. Also included with the 1419 is (1) a 12 volt 12 amp hr gelled-electrolyte battery, the extension pole, six collection cups and lids with stainless steel mosquito mesh, a universal voltage (input 100-250 VAC, 50/60 Hz) automatic charger with an output of 5.0 amps per hr) permitting complete recharging in 2.5 hours. Run time is four hours.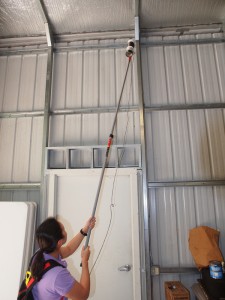 Highlights
Highly maneuverable aspirator for resting adults.
Four hour run time.
Comes complete with:

Aspirator with six collection cups for mosquitoes
Power cord, battery, and universal automatic 5 amp charger
Extension pole
Instructions
Design Characteristics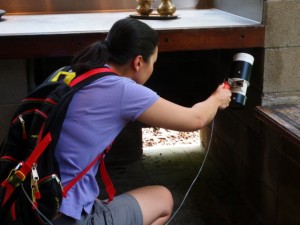 Our Prokopack aspirator incorporates several significant improvements to the original design. By optimizing the air flow we have improved intake air speed by 15%, reduced current consumption by 33% and thereby increased run time between battery recharging to four hours.
Using the supplied 12 volt 12 amp hr battery will provide the performance indicated below; the darker line is for the standard (mosquito) mesh screen in the collection cup, the lighter line reflects the fine mesh sandfly screen collection cup: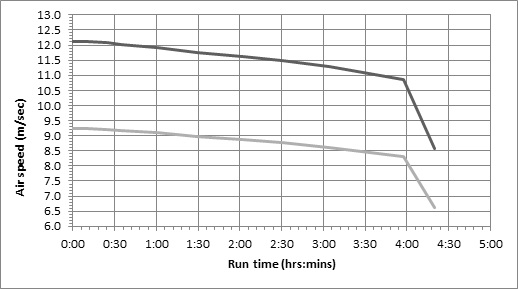 You can see from the figure that a new and fully charged 12 volt 12 amp hr battery gives intake air speeds in excess of 10.5 m/sec for 4 hours of operation using regular mesh cups (an improvement of 15% over the original design) using 33% less current.
Cited Literature
Silver, JB. Mosquito ecology: Field sampling methods. Vol. 3rd. New York: Springer; 2008.
Included Items
The Improved Prokopack Aspirator Model 1419 comes complete with:
Aspirator unit complete wth switch and 13′ (4m) of 16-ga copper stranded double insulated power cord with alligator clips
5 collection cups, regular mesh stainless steel, with lids
12 volt 12 amp hour gelled electrolyte battery
5 amps/hr universal and automatic battery charger. Input 100-240 VAC, 50/60 Hz.  Model 2.70 Universal Battery Charger Manual
Adjustable backpack with separate compartments for collection cups and battery
Extension pole, adjustable from 4' to 8' (1.2-2.4 m)
Instructions
Requirements
This aspirator draws 2.5 amps at 12 volts DC.
Options
| P/N | Description |
| --- | --- |
| 2.35 | Sealed, Gelled-Electrolyte Battery, 12 Volt, 12 Amp Hours (recommended battery for the Prokopack Model 1419). |
| 1.0 | 6 Regular Mesh Stainless Steel Collection Aspirator Cups (mosquitoes). |
| 1.01 | 6 Fine Mesh Stainless Steel Collection Aspirator Cups (sandflies). |
| 2.7 | Automatic charger for Prokopack aspirator, input 100-240 VAC, 50/60 Hz, output 5 amp hours. Full charge in 2.5 hours or less. |