New Jersey Stainless Steel Light Trap
The New Jersey Stainless Steel Light Trap Model 1112 has been a long time standard for mosquito control operations. The large stainless steel trap is usually permanently mounted and is available with an optional PhotoSwitch and Programmable Seven-day Timer.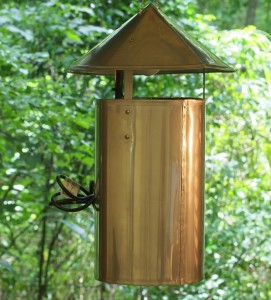 Highlights
Good for permanent mounted locations.
Optional programmable seven-day timer gives precise collection control.
Stainless Steel construction.
Control motor and light with optional ON/OFF photoswitch.
Registered as a National Stock Number.
Operates at 120 or 220 volts.
Design Characteristics
Experience has shown that light traps are an efficient and productive means of collecting mosquitoes, both in consideration of the numbers of individuals captured and the diversity of species represented.
The prototype for the Model 1112 was designed about 40 years ago by mosquito control personnel in the State of New Jersey; the trap was designed for mosquito abatement operations and arbovirus survey purposes. We have attempted to produce an efficient, convenient, and durable trap through the use of the highest quality materials available and thoughtful design.
Optional PhotoSwitch and 24-hour Timer
Light traps should be operated on a regularly scheduled basis of 1 to 7 nights per week. Experience has shown that 4 nights of collection will usually give as valid an index as 7 nights per week. Therefore, we recommend that trap collections be made on 4 consecutive nights, such as Monday through Thursday of each week. The traps are turned on just before dark and off again just after daylight.
The Optional New Jersey PhotoSwitch (P/N 1.68) turns the trap light on at dusk and off at dawn to greatly reduce the manpower required to operate a series of traps. The New Jersey 7-Day Programmable Timer (P/N 1.98) and the New Jersey 24 hour timer (P/N 1.9) are also optionally available to precisely control when the trap is turned on and off.
Included Items
The New Jersey Stainless Steel Light Trap Model 1112 includes:
Trap Assembly with motor and fan.
Rough-service 25 Watt light bulb
Power Cable
Collection Bottle
Instructions
Requirements
The trap operates at 120 VAC, 50-60 Hz, single phase. The standard bulb is a 25-watt rough-service bulb and the fan motor draws only 4 watts.
The trap should be connected to a 3-conductor circuit which is protected by a ground-fault detection circuit breaker for safe operation. Installation must conform to all local codes.
National Stock Number (NSN)
| NSN | Description |
| --- | --- |
| 3740-00-607-0337 |  New Jersey light trap, stainless steel |
For a list of all John W. Hock Company products registered with a National Stock Number, click here.
Options
| P/N | Description |
| --- | --- |
| 1.70 | Spare Bottles for Trap Model 1112, Killing Jar Assembly Model 1.20, and Collection Bottle Rotator Model 1512. |
| 1.94 | Fine Mesh Replacement Cone Assembly for New Jersey Model 1112 trap. |
| 1.68 | PhotoSwitch for New Jersey Model 1112 trap, rated at 120 volts |
| 1.90 | New Jersey 24 hour timer, rated at 120 volts |
| 1.98 | New Jersey 7-day programmable timer, rated at 120 volts. |
| 3.40 | Replacement Rough-Service Lamp for Trap Model 1112, rated at 25 watts, 110 volts AC. |
| 4.14 | Motor and Fan for New Jersey Trap Model 1112 (110 Volt AC) |