Adult Mayfly Updraft Blacklight (UV) Trap
The Adult Mayfly Updraft Blacklight (UV) Trap Model 3519 was developed for the capture of adult mayflies (Ephemeroptera) using a four-watt blue-blacklight (UV).  The three-inch diameter intake of the trap is at the lower end of the collection chamber and just above the blacklight tube.  The design is such that the insects do not go through the aspiration fan which is located at the top of the unit under the rain shield.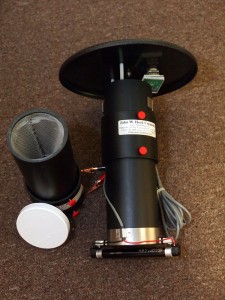 Highlights
Specimens are protected from the aspiration fan.
Updraft trap with fan to keep catch in the trap.
Design Characteristics
The trap comes complete with two collection chambers and power cord.  The second chamber is shown to the left of the trap and consists of a union (bottom) fitted with a stainless steel fine mesh screen; this union attaches to the upper fan unit with a red thumbscrew.  Inserted below the union is a a 6.5-inch long 3" ID tube fitted with an inverted stainless screen (shown) and a plastic white cap used to prevent specimen loss while transporting the chamber back to the lab for processing.  The two collection chambers supplied with this unit permit once-a-day trap tending.
When changing chambers, the supporting stainless steel band with UV tube is slipped off and slipped onto the second chamber.
Included Items
The Adult Mayfly Updraft Blacklight (UV) Trap Model 3519 includes:
Trap
Power Cable
Two Collection Chambers
Instructions
Requirements
The trap draw is 0.50 Amps/hour at 12 volts.
Requires a 12 volt, 10 amp DC battery. See the options below or the batteries and chargers product page for more information.
Options
| P/N | Description |
| --- | --- |
| 2.32 | Sealed, Gelled-Electrolyte Battery, 6volt, 20 Amp Hours (requires a charger). |
| 3.30 | Replacement Florescent F4T5 BLB (UV) Lamp for Trap Models 812, 912, 1212, 1312, and 3519. |
| 4.10 | Motor and Fan for Miniature Traps (6-volt) |