CDC Gravid Trap
The CDC Gravid Trap Model 1712 is particularly good for collecting virus-positive mosquitoes since it was designed by Dr. Paul Reiter of the U.S. Centers for Disease Control to collect gravid Culex mosquitoes. Although the Standard New Jersey and other light traps will capture these mosquitoes, the specimens are almost all nulliparous and therefore less likely to be infected.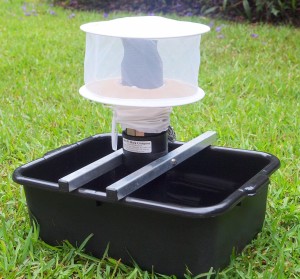 Highlights
Specific for virus-positive mosquitoes.
Attracts mosquitoes with hay infusion in oviposition pan.
Updraft trap with fan to keep catch in the collection bag.
Design Characteristics
The CDC Gravid Trap was designed by Dr. Paul Reiter of the Centers for Disease Control, Division of Vector-Borne Disease for the selective capture of gravid Culex mosquitoes. By limiting captures to this class of females, problems associated with calculation of minimum virus infection rates were reduced.
The trap attracts females by means of an oviposition medium contained in a pan below the trap. The trap operates by creating an upward current of air from within the confines of the pan, so that the mosquitoes are blown into the collection bag during their preoviposition examination of the oviposition medium.
Oviposition Attractant
The hay infusion is made by adding 1 lb (0.5 kg) of hay to 30 gal (114 liters) of tap water, and allowing the infusion to incubate for 5 days. The trap is placed at the desired collection site at least 1 hr before sunset and the pan is filled with 1 gal (4 liters) of infusion solution. Captured mosquitoes are removed early the following morning to ensure maximum survival of the insects and any virus that may by present. New medium is used each night.
Included Items
The CDC Gravid Trap Model 1712 includes:
Trap
Power Cable
Double-Ring Collection Bag
Oviposition Pan
Instructions
Requirements
The trap draw is 0.125 Amps/hour at 6 volts.
Requires a 6 volt, 12 amp DC battery. See the batteries and chargers product page for options.
National Stock Number (NSN)
| NSN | Description |
| --- | --- |
| 6545-01-457-5511 | Gravid trap |
For a list of all John W. Hock Company products registered with a National Stock Number, click here.
Options
NOTE: This collecting trap cannot be ordered with a PhotoSwitch and since this is an updraft trap, an Air-Actuated Gate is not necessary or useful.
| P/N | Description |
| --- | --- |
| 1.45 | Collection Bag, Double Ring, Fine Mesh only |
| 4.10 | Motor and Fan for Miniature Traps (6-volt) |