Migration Trap
The Migration Trap Model 3212 is very similar to the Standard 6-m Malaise Trap but insects intercepted on each side of the baffle are captured separately allowing determination of flight direction.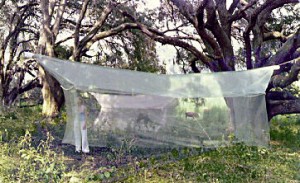 Highlights
Determine flight direction with segregated collection from two-sided baffle.
Dual collection heads can be used wet or dry.
Sun-Resistant polyester fabric.
All seams double or triple sewn.
Optional Acrylic Alcohol Heads provide dedicated wet collection.
Available in the similar Standard 6-meter Malaise Trap Model 3012.
Design Characteristics
This trap was developed by Dr. T. J. Walker for behavior studies (Migration and re-migration of butterflies through peninsular Florida: Quantification with malaise traps. 1978. L. Lepidop. Soc. 32: 178-190). The trap features segregated collection of insects from each side of the baffle in order to determine flight direction.
Optional Alcohol Heads
The optional alcohol heads are interchangeable and machined from acrylic and stainless steel. The heads support the use of isopropyl alcohol which is commonly used to kill the insects before the specimens are damaged. The catch is removed by unscrewing the bottles hanging under the angled collection heads.
Included Items
The Migration Trap Model 3212 includes:
Sun-resistant polyester fabric trap with and all seams double or triple sewn.
Tie-down rope
Two wet/dry collection heads (P/N 5.10)
Instructions
Options
| P/N | Description |
| --- | --- |
| 5.10 | Dry/Wet Collection Heads (pair) for flight traps Models 3012 and 3212. |
| 5.20 | Alcohol Collection Heads (pair) for flight traps Models 3012 and 3212. |