Standard 6-Meter Malaise Trap
The Standard 6-Meter Malaise Trap Model 3012 is a flight trap with dual dry/wet collection heads. The traps were originally developed by Drs Gressitt and Gressitt (An improved malaise trap, 1962. Pacific Insects, 4:87-90) and we have been selling this trap for more than 20 years around the world. The fabric is sun-resistant polyester and all seams are double or triple sewn.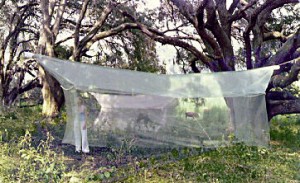 Highlights
Dual collection heads can be used wet or dry.
Sun-Resistant polyester fabric.
All seams double or triple sewn.
Intercepting baffle measures 2.6 by 4.5 m
Optional Acrylic Alcohol Heads provide dedicated wet collection.
Available in the similar Migration Trap Model 3212 where insects are captured separately allowing determination of flight direction.
Trap Location
Where the trap is placed is not determined solely by what you intend to catch. Give consideration to natural flyways, e.g. along the edges of fields and roads within woods. If applicable, place the trap perpendicular to the direction of flight, e.g. butterfly migration or the diurnal movement of mosquitoes to and from a wooded area (particularly see Gressitt & Gressitt 1962). Remember, the trap will catch good numbers anywhere but moving it every few days will reveal better places than others for a particular genus or species. A trap set up in a shaded area will collect more if one or both collecting chambers are placed in the sunlight or toward the light portion of the skyline. The instructions also provide references concerning baiting the trap, e.g. CO2 for biting flies.
Optional Alcohol Heads
The optional alcohol heads are interchangeable and machined from acrylic and stainless steel. The heads support the use of isopropyl alcohol which is commonly used to kill the insects before the specimens are damaged. The catch is removed by unscrewing the bottles hanging under the angled collection heads.
Included Items
The Standard 6-Meter Malaise Trap Model 3012 includes:
Sun-resistant polyester fabric trap with and all seams double or triple sewn.
Tie-down rope
Two wet/dry collection heads (P/N 5.10)
Instructions
Options
| P/N | Description |
| --- | --- |
| 5.10 | Dry/Wet Collection Heads (pair) for flight traps Models 3012 and 3212. |
| 5.20 | Alcohol Collection Heads (pair) for flight traps Models 3012 and 3212. |